Team up with a few.
Benefit your whole team.
A monthly live class that enables 3-5 team members to combine knowledge & creativity to craft messaging that paints pictures, stands out, and helps the rest of your team start more and have easier conversations.
"Comedy writing is collaborative, in the same way that tug-of-war is collaborative. It's not that one person can't do it; it's just that [several] do it better and more easily."
– MICHAEL SCHUR, EXECUTIVE PRODUCER OF NBC COMEDY "THE GOOD PLACE."
Standing out in prospecting efforts. 
Cold  outreach needs to:
– S
peak to your buyer's needs and objectives 
–  Stand-out from the ho-hum
– Elicit an emotional reaction from them. 
Fostering and enabling creativity.
A single seller or marketer can rarely craft messaging that's both relevant AND memorable.
Onboarding new team members
Getting new SDRs, AEs, and CSRs  to quickly articulate what problems you solve and for who – in simple English.
Lack of leadership consensus 
Early stage leadership isn't always on the same page about who their solution helps and why.
Your favorite TV or movie comedy wasn't written by one person, but pooled the creativity of 6-12 people.  The Beatles couldn't create as well as solo artists as they could as a team. Heck, I bet you sometimes  want extra help in the kitchen.
This monthly live Class will teach a group (3-5) of your subject-matter experts & creative team members tools and a process to create openers to help them
 (and the rest of your team) 
break through the noise, start more conversations, and keep their day jobs.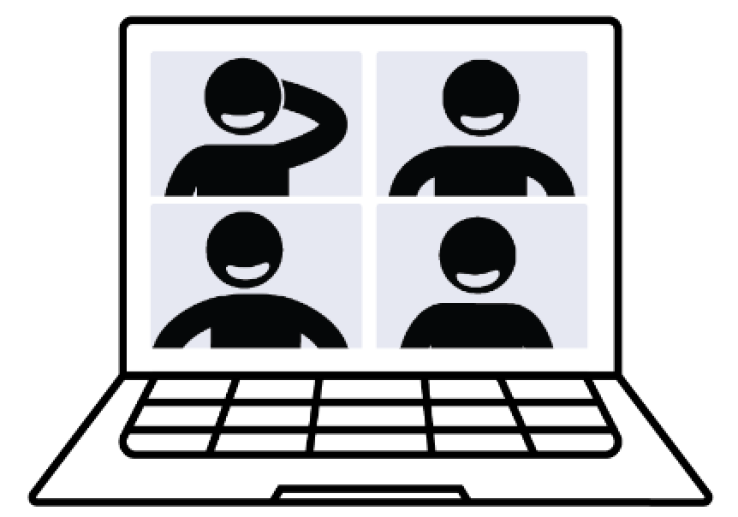 Team Members will Collaboratively:
Build out full portraits of your key buyer personas including:
Their role
Their desired end-state
Their most common struggles
How they're measured
What success and failure look like
Their emotional trigger points
Dig deeper into the problems you solve
The impacts of not solving them
Which other stakeholders are affected
A step-by-step process to transform all that stuff above into openers that roast your buyer's pain

Peer learning & collaboration

A deeper understanding of your buyers and why your company matters to them
An opportunity to exercise creative muscles
New ways to improve your phrasing and expression…
…and finally break free from the evil Buzz Wordington
Consensus
An opportunity to take my full training & workshop for a test drive.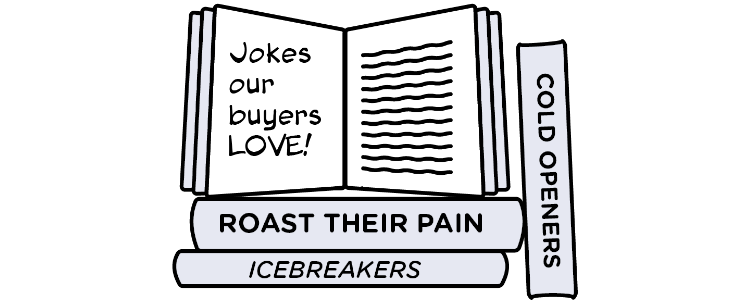 12 Outcomes from Crafting Humor as a Group
The process of writing and testing jokes forces us to:
1) Define who our audience is
2) Articulate why we matter to them
3) Understand their goals & emotions
4) Break down why & how our offerings can affect them
5) Write/express ourselves around them
6) Master language (and ditch jibberish-y buzzwords)
7) Rephrase them
8) Break-down concepts
9) Present/speak in public
10) Get creative
11) Loosen up
12) Create memorable ways to connect with your prospects.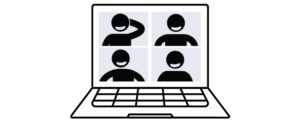 I'll write 10-15 jokes to illuminate up to 3 specific points you want to impress upon your prospects.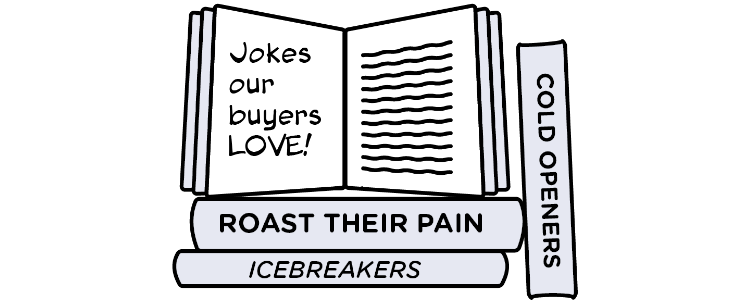 I'll adapt up to 5 jokes for cold emails, LinkedIn connection requests, voicemail/video & cold calls (where applicable). Share the playbook with your entire team.

I'll walk your entire team through the playbook, and teaching them how to deploy it. We'll role play, practice, and fail publicly – so reps can succeed IRL.
How ONE joke can open door after door...
Memorable messaging. Assemble & register a "Tiger Team" of creative people who really understand your company's value
Senior leadership alignment. Are you all on the same page about your company's "So What?" and "Who Cares"? This class will align y'all.
Onboarding new sellers. Have a few new hires? Team them up with a savvy, veteran teammate or two. When it's over, they'll be able to express what problems you solve for who (in simple English), and have more confidence to deal with prospects and customers.
General upskilling for top performers. A-Players want to keep growing. Give them another arrow for their quiver.
Register a group of up to 5 (not limited to sellers or marketers)
Jon will facilitate pre-work over a 1 hour private session, followed by:
4 x 2 hour sessions
This is an "open registration" class, with a maximum of 5 groups per class
Upon completion, Jon will "Punch-Up" and edit each group's jokes
Add-Ons can be…um….added on….for a more robust final deliverable
If more than one group registers, the fee is $3000 USD/group

(plus applicable taxes for Canadians)

If only one registers (or you want a private class), fee is $5000 USD (plus applicable taxes for Canadians)
Want to hear about upcoming classes?  Email us to get on a waiting list or click the button below and let's talk it out.
SALES EXECS & REPS SAYING NICE THINGS:
Many sales reps testifiying. A "testi-montage" if you will